Courses Taught:
Math/Science/Alabama History
Education
I am a graduate of W.P. Davidson High School in Mobile, AL.

I am a graduate of Judson College where I received a Bachelor of Arts Degree.

I am a graduate of Auburn University at Montgomery where a received a Masters Degree in Childhood Education
Experience
The 2020-2021 school year will be my 19th year in education. For the first 9 years, I was a Title I teacher that taught reading and math to 3rd and 4th graders (along with 5th and 6th graders for 1 year).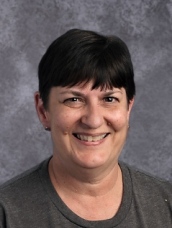 Cyr & Rice Supply List 2020 - 2021
$25 classroom donation and/or gift cards are appreciated!
All donations will be used specifically for your child's classroom.
**************************************************
Please LABEL and bring on the 1st day of school:
* scissors * glue sticks *liquid glue *markers *crayons
*#2 wooden pencils *cap erasers *colored pencils
*A pencil sharpener is available for student use, but if your child wishes to have a personal pencil sharpener, it must be a covered sharpener! Colored pencils & plastic coated pencils cannot be sharpened in our electric sharpener.
*Clear Standard *SHOEBOX SIZE* stackable plastic storage box for art supplies (approx. 6.5" x 11" or 6 quart)

*Assignment Planner (sold at Open House for $6) REQUIRED
*Small paperback Student Thesaurus and Dictionary (must fit easily in desk/backpack)
* Wide ruled notebook paper (fill binder and refill at home as needed)
*8 Subject Dividers
*1 Durable 2" binder (Subjects: Math, Science, AL History, Reading, Grammar, Spelling, Writing, Handwriting)
*Flash drive (please send in a labeled sandwich size Zip-loc bag)
*Earbuds OR earphones (please send in a labeled sandwich size Zip-loc bag)
*3 x 5 LINED index cards (pack of 50)
*Please set up your child's binders using labeled subject dividers with notebook paper behind each subject.*
Wish List:
Swiffer Wet Jet Multi Surface Cleaner Solution Refills
Swiffer WEt Jet Multi-Surface Pads (not wet mopping clothes)
Antibacterial cleaning supplies
Zip-loc bags (gallon)
Manila Folders (letter size)
White Cardstock (8 1/2 x 11)
iPad chargers
Printer Ink (HP 902 Black and HP 902 Color)-Cyr
Printer Ink (HP 63 Black and HP 63 Color)-Rice
Flash Drives
Brightly colored copy paper
13 gallon heavy duty trash bags
** Mrs. Cyr's classroom library Wish List can be found on her webpage via www.pesbobcats.com
New or pre-loved books are welcomed!
Ms. Rice's Daily Schedule
2020-2021
7:45 – 8:10 Daily Prep/Attendance/Announcements/Morning Work
8:10 – 8:25 Math
8:25 - 8:45 - Class Bathroom Break
8:45 - 9:45 - Math
9:45 - 10:15 - PE
10:15 - 10:35 - Math
10:35 - 11:25 - AL. History/Science
11:25 - 11:35 - Update student planner/Teachers change classes
11:35 - 11:50 - Math
11:50 - 12:10 - Class Bathroom Break
12:15 - 12:38 - Lunch (CYR HR)
12:38 - 1:10 - Math
1:10 - 1:25 - Recess/Snack (CYR HR)
1:25 - 2:15 - Math
2:15 - 3:00 - AL History/Science
3:00 - 3:15 - Dismissal
** Music - Wednesday (Rice HR) - 10:20 - 10:50
** Library - Monday (Rice HR) - 10:20 - 10:50